The unique combination of strength, stress relaxation resistance, hardness, resistance to corrosion and electrical conductivity offered by copper-beryllium (also known as beryllium-copper), has given it an important place in modern industry.
There are two groups of copper-beryllium alloys: high strength (1.6–2.05% Be) and high conductivity (0.2–0.7% Be) – it is the latter that is used in electrical applications.
The electrical conductivity of heat treated copper-beryllium is greater than that of any other ferrous or non-ferrous alloy of comparable mechanical properties.
History
Copper-beryllium alloys do not have a history of use similar to that of bronze and brass; beryllium was not isolated until 1828 in Germany and the first copper-beryllium alloy components were conductive springs used in telephone switchboard relays in Germany in the 1920s.
From the 1970s, copper-beryllium became more prevalent in the automotive, electronics and mainframe computer industries, a trend which continues today with applications in telecommunications, personal computers, mobile phones and domestic appliances, where the alloy is particularly useful, because of its high strength, for miniaturised components.
Copper-beryllium first appeared in BS 2874:1986 'Copper and copper alloys rods and sections' as C112. CW103C, CW104C (which replaced C112) and CW110C first appeared in the European Standard PD CEN/TS 13388 'Compendium of compositions and products'.
Heat Treatment
Copper-beryllium alloys are heated to 800–920oC and rapidly cooled. This is called solution treatment and is done by the supplier as part of the manufacturing process. They are then reheated to 260–470oC and this produces age or precipitation hardening. In the solution treated condition, the alloy is soft and may be cold worked to complex shapes, which may then be strengthened by a subsequent ageing treatment. The cold working and ageing is done by the user.
Properties
The properties are given in the European Standard in the solution treated and cold rolled condition or the solution treated, cold rolled and precipitation hardened condition. Below is a summary:
Tensile strength: 240–750 N/mm2
0.2% Proof strength: 220–650 N/mm2
% Elongation: 20–5
Hardness (HV): 60–290
Electrical conductivity: 45–63% IACS
Thermal conductivity: 156–260 W/moC
Stress Relaxation
Copper-beryllium alloys are often chosen because of their inherent resistance to stress relaxation. Miniaturisation in computer hardware, automotive interconnectors and aerospace systems has accentuated the importance of high thermal stability. Today, more than ever before, many electronic contacts and other spring elements must remain stable for longer while operating at higher temperatures.
Stress relaxation may be expressed as the percentage of the 0.2% proof strength which remains after a certain time at a given temperature. Test pieces were stressed at 75% of the 0.2% proof strength and typical results show that after 1,000 hours, 70% of the stress was retained and after 10,000, hours 40% remained.
Resistance to Softening
This is defined as the temperature at which an approximate 10% loss in strength occurs. It takes place for copper-beryllium alloys at 450–480oC, compared to pure copper which begins to soften at approximately 150oC.
Fatigue Strength
Copper-beryllium alloys have a long history of success in resisting the cyclic stresses encountered in electrical and electronic components. The fatigue strength is expressed at 108 cycles with values from 240–300 N/mm2.
Fabrication
| | |
| --- | --- |
| Process | Rating |
| Cold formability | Excellent |
| Hot formability | Excellent |
| Soldering | Good |
| Brazing | Good |
| Oxyacetylene welding | Not recommended |
| Gas shield arc welding | Fair |
| Resistance welding | Fair |
All joining processes must be considered with respect to the ageing temperature. It is preferable that parts be joined before age hardening.
Machining
The machinability rating is 30% which is higher than pure copper. Free-machining brass is 100%.
Resistance to Corrosion
Copper-beryllium alloys have similar good resistance to corrosion in industrial and marine atmospheres as copper. For electronic components which may have to be stored for long periods before use, surface inhibition with benzotriazole (BTA) is recommended as this gives tarnish resistance.
Copper-beryllium alloys are insensitive to chloride stress corrosion cracking, showing no failure in the standard ASTM test.
The alloys are susceptible to attack in the presence of moist ammonia, sulphur, hydrogen sulphide and mercury.
Health and Safety
Handling copper-beryllium in solid form poses no special health risk.
If they are subsequently processed in any way which might give rise to airborne dust or fumes, for instance by dry grinding, abrading, electro-discharge machining, melting or welding, then an inhalation hazard could arise. Safety information data should be consulted.
Copper-beryllium alloys are not banned or restricted in any way by the European Restriction of Hazardous Substances (ROHS), Waste Electrical and Electronic Equipment (WEEE), or End-of-Life Vehicles (ELV) directives.
Applications
The combination of high strength, good resistance to stress relaxation, good corrosion resistance and high electrical conductivity makes copper-beryllium ideal for the following applications:
Conductors
Fuse clips
Relay parts
High flux electromagnets
Welding equipment
Switch parts
Lead frames
Terminals
Connectors in the electronic industries
Contact springs in the electromechanical, appliance and automotive industries
Electromagnetic shielding
Watchmaking
Miniaturised machined electronic sockets
Battery contacts
Available Forms
High conductivity copper-beryllium is available as bar, forgings, profiles, rod, sheet, strip and wire.
Specifications
Below are the specifications for Europe and US. Note that for USA, some compositions are not identical. For equivalent standards from other countries visit the Copper Key website.
UK: C112 (CuCo2Be), (British Standard BS designation). British Standards are superseded by European Standards.
Europe: CW103C (CuCo1Ni1Be), CW104C (CuCo2Be) and CW110C (CuNi2Be). (European Standard EN designation).
USA: C17500, C17510, C17410 and C17530 (American Society for Testing and Materials ASTM designation).
Application Example 1: Hyperboloid Wire Basket Connector
This connector features a wire contact sleeve which is formed by high strength, high conductivity, copper-beryllium wires strung at an angle to the socket's axis forming a hyperboloid cage. When the copper pin is inserted into the sleeve, the copper beryllium wires stretch elastically around it providing a number of linear electrical contact paths.
These connectors operate in the temperature range -40 to +125oC and give
Good resistance to shock and vibration
Long contact life
Low insertion and extraction forces
Low contact resistance
High current capability
Low power consumption
At least 100,000 insertion and extraction cycles with no loss of performance
These connectors which have been used for over 40 years in the rail industry, withstanding shock and vibration are now available in miniaturised form and are used in:
Critical aerospace, military and medical applications.
Non critical portable electronic and consumer devices.
Hypertac hyperboloid contact (Courtesy of Smiths Connectors)
Application Example 2: High Reliability Automotive Applications
High strength, good resistance to stress relaxation and high electrical conductivity makes copper-beryllium ideal for automotive electrical systems (see the above-right image for examples). Copper-beryllium components include electric and electronic contacts and connectors, switches and relays.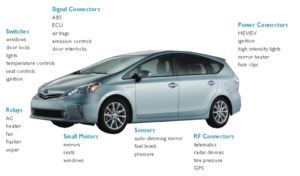 High strength, good resistance to stress relaxation and high electrical conductivity makes copper-beryllium ideal for automotive applications (Courtesy of Materion.)
Quick Facts
Properties
This alloy has the following combination of properties:
Tensile strength: 240–750 N/mm2
0.2% Proof strength: 220–650 N/mm2
% Elongation: 20–5
Hardness (HV): 60–290
Electrical conductivity: 45–63% IACS
Thermal conductivity: 156–260 W/moC
Applications
Conductors
Fuse clips
Relay parts
High flux electromagnets
Welding equipment
Switch parts
Lead frames
Terminals
Connectors in the electronic industries
Contact springs in the electromechanical, appliance and automotive industries
Electromagnetic shielding
Watchmaking
Miniaturised machined electronic sockets
Battery contacts
Available Forms
Bar
Forgings
Profiles
Rod
Sheet
Strip
Wire