The use of wrought high-conductivity copper for busbars, power cables, domestic wiring and overhead conductors is well established.
For non-standard complex-shaped components, copper may be cast by any of the traditional methods.
However pure copper is difficult to cast, being prone to surface cracking, shrinkage and internal cavities; it is only specified when castings of very high electrical conductivity are required. The casting characteristics of pure copper can be enhanced by small additions of chromium, beryllium, nickel and silicon which enhance the strength without drastically reducing the conductivity.
History
Cast copper axes and chisels of 99% purity dated 3000 to 3500 BC have been found; clearly the ancients appreciated the hardness and toughness of copper compared to the brittle alternatives of stone and flint.
The increase in copper usage and the beginning of the modern era began in the 19th century with the discovery of electricity, leading to a revolution in communications with telegraph and telephone, followed by fax, leading to internet and satellite systems. This was made possible because of the very high electrical conductivity of copper.
In the mid-1990s, a major improvement in electric motors took place when pressure die-cast copper was used for rotors, resulting in higher efficiency electric motors and showing cast copper at the cutting edge of technology as it has been for 6000 years.
Standards
High conductivity cast copper appears as HCC1 in BS 1400:1985 'Specification for 'Copper alloy ingots and copper alloy and high conductivity copper castings' and as CC040A in the replacement for BS 1400, European Standard EN 1982:2008.
Heat Treatment
CC040A cannot be hardened by heat treatment but may be stress relieved at 250 to 500oC.
Properties
In the cast condition, CC040A has a combination of properties as below:
Tensile strength: 150 min N/mm2
0.2% Proof strength: 40 min N/mm2
% Elongation: 25 min
Hardness (HV): 40 min
Electrical conductivity: 86 -98% IACS
Thermal conductivity: 372 W/moC
Joining
Soldering and brazing are excellent. Gas-shielded arc welding is fair. Oxyacetylene and coated metal arc welding are not recommended.
Machining
The machinability rating is 10% which, with special techniques, is satisfactory. Free-machining brass is 100%.
Resistance to Corrosion
This copper has good resistance to corrosion in industrial and marine atmospheres. It is insensitive to stress corrosion cracking. However, it is susceptible to attack in the presence of ammonia, sulphur, hydrogen sulphide and mercury.
Resistance to Softening
This copper will start to soften at about 150oC; however it can withstand temperatures up to 250oC (which may be experienced during short circuits), for a few seconds.
Applications
Components with a complex shape which require the combination of high electrical and thermal conductivity, good corrosion resistance and oxidation resistance include:
Electrode holders
Electrode plates for process industry machinery
Rings for process industry machinery
Irregular shaped busbars
Electrical switchgear
Spot welding electrodes
Die-cast rotors in high efficiency motors
Stressed current-carrying parts for HF welding
Contact mechanisms
Die-cast battery terminals
Terminal lugs
High amperage circuit breakers
Available Casting Processes for CC040A
Sand casting allows the greatest flexibility in casting size and shape and is the most economical casting method if only a few castings are made. Die-casting is more economical above about 50,000 units.
Specifications
Below are the specifications for Europe, US and Asia. Note that for USA and Asia, some compositions are not identical. For equivalent standards from other countries visit the Copper Key website.
UK: HCC1 (Cu-C) (British Standard BS 1400, replaced by BS EN 1982).
Europe: CC040A (European Standard BS EN 1982:2017).
USA: C80100 (American Society for Testing and Materials ASTM designation).
Japan: CAC101 (Japanese Industrial Standards JIS designation).
Application Example 1: Pressure Die-cast Copper Rotor for Induction Motors
Electric motors account for two-thirds of all the electricity used in industry, so improving motor efficiency has great economic and environmental benefits. Recent advances in copper die-casting technology have enabled the commercialisation of motors with cast copper rotors in place of aluminium ones. A copper rotor is a rotor made of electrical steel (laminations) where the slots and end rings are filled with copper instead of the traditional material (aluminium). Copper's higher electrical conductivity allows the rotor to conduct electricity more efficiently, resulting in lower resistive losses and lower operating temperature. Motors with copper rotors offer cost savings, weight and space savings, improved thermal capacity, improved steel properties and increased reliability.
VEM motor with copper rotor cast by Breuckmann
Application Example 2: Cast Copper Electrode Holder Used in Steelmaking
The cast water-cooled holder supports a graphite electrode used in electric arc steelmaking. Copper is used because of its high strength, good corrosion resistance, excellent thermal and electrical conductivity which leads to low graphite consumption, high process speed, easy handling, optimal symmetry and maximum efficiency.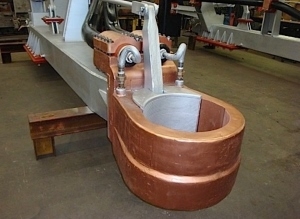 Cast water cooled holder (Courtesy of Watteredge LCC, Ohio, USA)
Application Example 3: Electrical Switchgear
Cast high conductivity components include electrical switchgear such as transformer coils and impedance bonds for railway signalling. The high electrical and thermal conductivity and excellent corrosion resistance of copper is essential for components such as this.
Quick Facts
Properties
Cu-C has the following combination of properties
Tensile strength: 150 N/mm2
0.2% Proof strength: 40 min N/mm2
% Elongation: 25 min
Hardness (HV): 40 min
Electrical conductivity: 86-98% IACS
Thermal conductivity: 372 W/moC
Applications
Electrode holders
Electrode plates for process industry machinery
Rings for process industry machinery
Irregular shaped busbars
Electrical switchgear
Spot welding electrodes
Die-cast rotors in high efficiency motors
Stressed current-carrying parts for HF welding
Contact mechanisms
Die-cast battery terminals
Terminal lugs
High amperage circuit breakers