Copper–iron (C19500) is a heat-treatable, high-strength, high-softening-resistance, high-fatigue-resistance alloy with a moderate electrical conductivity.
History
CuFePCoSn was developed by Olin Brass USA in the 1970s as an enhancement of C19400. It has a finer dispersion of particles after heat treatment plus an addition of cobalt, leading to superior strength and the ability to withstand higher temperatures for a longer time. It is the strongest of the copper-iron conductivity alloys.
Heat Treatment
The precipitation heat treatment involves heating the alloy to 800 to 900oC and water quenching. This is called solution treatment and the alloy is in its softest condition.
Subsequent precipitation (age) hardening at lower temperatures of 450 to 600oC results in the formation of very finely dispersed precipitates in the alpha matrix; these are responsible for the higher strength and temperature resistance.
Properties
The alloy has a combination of properties as below:
Tensile strength: 360-670 N/mm2
0.2% Proof strength: 170-650 N/mm2
% Elongation: 26-2
Hardness (HV): 100-190
Electrical conductivity: 50% IACS
Thermal conductivity: 200 W/moC
Fabrication
| | |
| --- | --- |
| Process | Rating |
| Cold formability | Excellent |
| Hot formability | Excellent |
| Soldering | Excellent |
| Brazing | Excellent |
| Oxyacetylene welding | Fair |
| Gas shield arc welding | Good |
| Resistance welding | Fair |
Machining
Machinability rating is 18% which is fair. Free-machining brass is 100%.
Resistance to Corrosion
The alloy has good resistance to corrosion in industrial and marine atmospheres. It is insensitive to stress corrosion cracking. However, it is susceptible to attack in the presence of ammonia, sulphur, hydrogen sulphide and mercury.
Resistance to Softening
A major application for this alloy is lead frames which are subject to a range of temperatures during semi-conductor manufacture. These temperatures are 500, 350 and 200oC
To determine the resistance to softening, standard tensile test samples were prepared, heated to the above temperatures and the proof strength measured at specified time intervals.
The results for CuFePCoSn are summarised below and compared to Cu-ETP.
At 500oC
There is no loss of strength after 70 seconds.
Cu-ETP loses strength after 5 seconds.
At 350oC
There is no loss of strength after 2 hours.
Cu-ETP loses strength after 20 seconds.
At 200oC
There is no loss of strength after 4 hours.
There is a slight loss of strength for Cu-ETP.
Clearly CuFePCoSn has outstanding properties at the temperatures that may be encountered during semi-conductor manufacture. This is expressed as a high softening resistance.
Applications
CuFePCoSn has the highest strength of any of the copper iron alloys and an excellent resistance to softening. This allows parts to be reduced in size without sacrificing performance in many cases.
Springs
Contacts
Connectors
Terminals
Clips
Jaws
Clamps
Sockets
Wiring harness for automobiles
Edge connectors for printed circuit boards.
Lead frames
Available Forms
CuFePCoSn is available as bar, plate, sheet and strip.
Specifications
Below is the specification for US. For equivalent standards from other countries visit the Copper Key website.
USA: C19500 (American Society for Testing and Materials ASTM designation).
Further information on copper–iron C19500, and other conductivity materials, is available at the Copper Alloys Knowledge Base.
Application Example 1: Miniaturised Electrical Connectors
Because of its combination of high strength and good electrical conductivity, parts made from Copper–iron C19500 may be reduced in size without sacrificing performance. This is particularly important in automobile components where the ability to reduce vehicle weight leads to improved performance.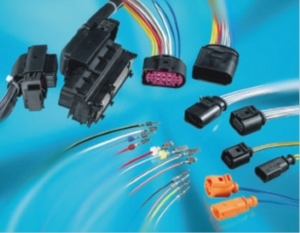 Electrical connectors (Courtesy of KME)
Application Example 2: Lead Frame
Copper–iron C19500 has outstanding softening resistance, high-strength and fatigue-bending-resistance which makes it suitable for lead frame manufacture.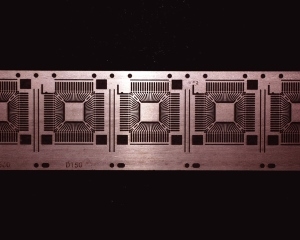 Lead frame (Courtesy of Wieland Werke).
Quick Facts
Properties
At room temperature the alloy has the following combination of properties:
Tensile strength: 360-670 N/mm2
Proof strength: 170-650 N/mm2
% Elongation: 26-2
Hardness (HV): 100-190
Electrical conductivity: 50% IACS
Thermal conductivity: 200 W/moC
Applications
Springs
Contacts
Connectors
Terminals
Clips
Jaws
Clamps
Sockets
Wiring harness for automobiles
Edge connectors for printed circuit boards.
Lead frames
Available Forms