Pure copper (99.90% minimum) is well established as the best commercial electrical conductor; 70% of copper produced is used for electrical applications.
It has, however, a low hardness and moderate strength and a range of copper alloys have been developed with increased mechanical properties for special applications. It should be noted that there is a decrease in electrical conductivity with increased strength; so a compromise between high electrical conductivity and high strength has to be made when selecting an alloy for a particular application.
One of the copper alloys produced with improved mechanical properties is copper-chromium-zirconium (CW106C). The alloy composition is typically 0.8% chromium, 0.06 to 0.08% zirconium, balance copper.
History
This alloy has evolved from copper-chromium CuCr1 (CW105C) which is a precipitation-hardenable alloy first made in the 1930s for spot welding electrodes, where strength and hardness at temperature (up to 500oC) with good electrical and thermal conductivity was essential.
Heat Treatment
The precipitation heat treatment involves heating to 950 to 1000oC and water quenching. This is called 'solution treatment' and in this condition the alloy consists of a soft supersaturated alpha phase with all of the chromium and zirconium dissolved. It should be noted that the solution treatment temperature is very close to the melting point and this treatment should be carried out by the supplier if possible.
Subsequent precipitation (age) hardening at lower temperatures 425 to 500oC results in the formation of finely dispersed CuCr1Zr precipitates such as Cu5Zr in the alpha matrix, which are responsible for the increased tensile strength, creep strength and hardness.
Properties
The alloy has a combination of properties as below:
Tensile strength: 220-540 N/mm2
0.2% Proof strength: 100-440 N/mm2
% Elongation: 35-5
Hardness (HV): 55-175
Electrical conductivity: 80% IACS
Thermal conductivity: 300 W/moC (compared to copper 394 W/moC)
Stress Relaxation
This is a decrease in stress under constant strain, typically observed in steel bolts in turbine casings which must be regularly tightened.
For copper alloys used in electrical contacts, it is important to maintain good contact force throughout the functional life of the product and have good stress relaxation resistance. This is where the CuCr1Zr alloy is particularly effective, an example being the use of CuCr1Zr wire in connector pins.
Fabrication
| | |
| --- | --- |
| Process | Rating |
| Cold formability | Good |
| Hot formability | Good |
| Soldering | Good |
| Brazing | Fair |
| Oxyacetylene welding | Not recommended |
| Gas shield arc welding | Fair |
| Resistance welding | Poor |
Machining
The machinability rating is 30% which is moderate (free-machining brass is 100%). The use of a cutting tool with a chip breaker is recommended (see CDA Publication TN44 or DKI Publication i.18).
Resistance to Corrosion
CuCr1Zr is similar to high conductivity copper in its resistance to corrosion. Like copper, it gives excellent service under all normal conditions of exposure and can be used in chemical plant where copper itself would be permissible.
CuCr1Zr is also comparable with high conductivity copper in respect of oxidation and scaling at elevated temperatures. The quantity of chromium present is insufficient to modify the behaviour of the alloy under such conditions. Heat treatment has no important effect on the resistance of the alloy to corrosive environments.
Resistance to Softening
The resistance to high temperature may be determined by the softening temperature which may be defined as the temperature at which there is an approximate 10% loss in strength. For copper chromium zirconium this is from 450 to 500oC. This compares to about 220oC for pure copper such as CW004A and 100oC for pure aluminium.
Applications
Typical applications requiring the combination of properties that this alloy offers – high electrical and thermal conductivity with enhanced strength compared to pure copper – include:
Resistance welding shafts
Welding electrodes
Welding electrode holders
Seam welding wheels
Switchgear components
Circuit breaker parts
Rotating electrical machinery
Lead frames
Trolley wire for high speed railways
Available Forms
CuCr1Zr is available as bar, plate and wire.
Specifications
Below are the specifications for Europe, US and Asia. Note that for USA and Asia, some compositions are not identical. For equivalent standards from other countries visit the Copper Key website.
UK: CC102 (CuCr1Zr) (British Standard BS designation). UK Standards are superseded by European Standards.
Europe: CW106C (CuCr1Zr) (European Standard EN designation).
USA: C18150 (American Society for Testing and Materials ASTM designation).
Japan: 3234 (Japanese Industrial Standards JIS designation).
Further information on CuCr1Zr, and other conductivity materials, is available at the Copper Alloys Knowledge Base.
Application Example 1: Welding Wheel
Resistance seam welding is a variant of the basic resistance spot welding process. In spot welding a nugget (spot) is produced by passing an electric current through the sheet materials to be welded while they are held together under a mechanical force. In seam welding the material is held between two copper-chromium-zirconium welding wheels which rotate as the sheet or plate to be welded is fed into them. The result is a continuous watertight seam.
The copper-chromium-zirconium welding wheel has high electrical and thermal conductivity which is essential so that the welding amperage can be carried without overheating the wheel or causing arcing at the contacts. This process is used to weld aluminium and steel aerosol cans. See the SchoolScience aerosol resource.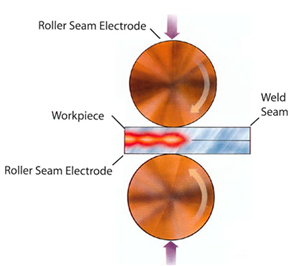 Seam welding process
(Courtesy of 4mechtech.blogspot.com)
Application Example 2: Trolley Wire for Shinkansen (Japanese Bullet Trains)
Japan's high-speed Shinkansen bullet trains run at speeds of over 300km/h and precipitation-hardened CuCr1Zr is used for the catenary wires due to its combination of high strength, good conductivity and abrasion resistance at working temperature.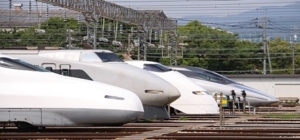 Trolley wires of the bullet train in Japan are made from precipitation-hardened CuCr1Zr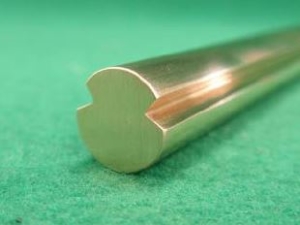 CuZr1Cr trolley wire close-up (Courtesy of Mitsubishi Materials)
Quick facts
Properties
The alloy has the following combination of properties:
Tensile strength: 220-540 N/mm2
0.2% Proof strength: 100-440 N/mm2
% Elongation: 35-5
Hardness (HV): 55-175
Electrical conductivity: 80% IACS.
Thermal conductivity: 300 W/moC
Applications
Resistance welding shafts
Welding electrodes
Welding electrode holders
Seam welding wheels
Switchgear components
Circuit breaker parts
Rotating electrical machinery
Lead frames
Trolley wires for high speed railways
Available Forms