Copper-zincs (brasses) have excellent corrosion resistance, an attractive colour range and the highest ductility of any copper/copper alloy making them a cost-effective engineering choice when the very high conductivity of pure copper (100% IACS) is not required.
The original definition of brasses is copper-zinc alloys with copper contents ranging from 95 to 55%. However when alloyed with elements such as lead, aluminium, arsenic, nickel, cobalt, silicon, manganese, iron, and tin, more complex brasses have been developed with over 50 wrought brasses available. This document refers only to the wrought brasses detailed in Tables 7 and 8 in CEN/TS 13388:2015 which are the binary copper-zinc alloys and a representative copper-zinc-lead alloy. It is these brasses which are used in electrical applications.
The electrical conductivity of brass is a function of the copper content, with the 95% copper 5% zinc alloy having the highest value of 57% IACS which falls to 22% IACS in the 70% copper 30% zinc alloy.
History
Brass has been known by man for almost as many centuries as copper but has only since the mid-18th century been appreciated as an engineering alloy due to its ease of fabrication, machinability, strength, ductility and resistance to atmospheric and marine corrosion. Examples of the vital role of brass in the development of modern civilisation are found in the manufacture of steam engines and road vehicles, cladding of wooden-hulled ships, and in the construction of Harrison's sea clocks which solved the problem of longitude.
The electrical conductivity of copper and brass became utilised with the discovery by Michael Faraday in 1831, that electricity could be viable for use in technology. One consequence was the growth in communications by telegraph and telephone from the 1830s onwards to the satellite age today, made possible by the electrical conductivity of copper and brass.
Heat Treatment
The brasses cannot be hardened by heat treatment. They may be annealed at 500 to 550oC and stress relieved at 250 to 300oC.
Properties
Tensile Strength: 240-500 N/mm2
0.2% Proof Strength: 150-350 N/mm2
% Elongation: 40-3
Hardness (HV): 50-190
Electrical conductivity: 22-57% IACS
Thermal conductivity: 120-233 W/moC
Stress Relaxation
This may be measured by a loss of 30% of the originally imposed stress for a product design life of typically 3,000 hours. Brasses satisfy this requirement up to about 75oC. For service temperatures up to 150oC, alternative alloys such as copper-tin, copper-nickel-silicon or copper-beryllium should be considered.
Fabrication
CuZn5, CuZn10, CuZn20, CuZn30
Process
Rating
Cold formability
Excellent
Hot formability
Excellent
Soldering
Excellent
Brazing
Excellent
Oxyacetylene welding
Good
Gas shield arc welding
Good
Resistance welding
Good
CuZn39Pb3
Process
Rating
Cold formability
Poor
Hot formability
Fair
Soldering
Excellent
Brazing
Excellent
Oxyacetylene welding
Not recommended
Gas shield arc welding
Good
Resistance welding
Fair
Machining
CuZn39Pb3 has the best machinability of any metallic alloy. It sets the standard for all metallic alloys and is given a machinability index of 100%.
The unleaded brasses with an index of 25-30 are rated as good.
Resistance to Corrosion
In common with the other copper based alloys, the brasses have excellent resistance to normal atmospheric corrosion. They gradually darken over a period of time due to a tarnish film which forms on the surface. This film is mainly oxide, but in locations where there is sulphur pollution, a proportion will be sulphide. This film eventually becomes stable and protective, and no further oxidation occurs. It is very thin and smooth and in no way interferes with the electrical function of a brass component.
Stress Corrosion Cracking
This takes place in the simultaneous presence of a sufficiently high tensile stress and a specific corrosive environment such as moist ammonia, mercury or sulphur dioxide. It can be prevented by a stress relief anneal between 250 to 350oC.
Applications
Brasses have good electrical and thermal conductivities and are markedly superior in this respect to bronze, ferrous alloys, nickel-based alloys and titanium. Brasses have approximately twelve times the electrical conductivity of stainless steel and ten times the thermal conductivity. The high thermal conductivity is important since it allows heat to be removed quickly from electrical components which are less efficient as the temperature rises.
The good electrical and thermal conductivity and ease of forming, combined with good corrosion resistance, makes brass an ideal choice for the manufacture of electrical equipment, both domestic and industrial.
To increase corrosion resistance, e.g. in marine environments, components may be nickel plated.
Earthing pins
Charger pins
Socket pins
Connectors
Earthing clamps
Terminal blocks
Glands
Screws
Junction boxes
Light bulb caps
Available Forms
The binary (copper-zinc) brasses are available as plate, rod, sheet, strip, tube and wire.
CuZn39Pb3 is available as profiles, rod, tube and wire.
Specifications
Below are the specifications for Europe, US and Asia. For equivalent standards from other countries visit the Copper Key website.
UK: CZ125 (CuZn5), CZ101 (CuZn10), CZ103 (CuZn20), CZ106 (CuZn30), CZ121Pb3 (CuZn39Pb3) (British Standard BS designation). British Standards are superseded by European Standards.
Europe: CW500L (CuZn5), CW501L (CuZn10), CW503L (CuZn20), CW505L (CuZn30), CW614 (CuZn39Pb3) (European Standard EN designation).
USA: C22000, C24000, C26000, C38500 (American Society for Testing and Materials ASTM designation).
Japan: C2400, C2600 (Japanese Industrial Standards JIS designation).
European Lead Regulations
EU legislation restricting the use of hazardous substances in electrical and electronic equipment (ROHS Directive 2002/95/EC) requires metals such as lead to be substituted .Currently, leaded brasses have an exemption from this restriction with lead contents up to 4% permissible.
Application Example 1: Electrical Pins, Terminal Blocks, Connectors, Earthing Clamps, Cable Glands.
The high electrical and thermal conductivity, good machinability and corrosion resistance makes brass the ideal choice for these components.

Brass earthing clamps (Courtesy of Precision Brass Parts India).
Application Example 2: Lamp Caps
Good quality light bulbs have brass caps that will last the life of the bulb without corroding or sticking in the holder. They are made by repetition stamping from brass sheet by a rapid succession of operations that index the strip, preform, finish and detach the caps. For applications in marine environments, the brass may be nickel plated to increase corrosion resistance.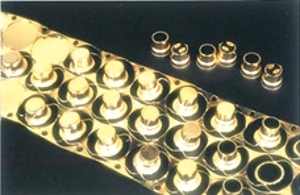 >Brass lamp caps
Application Example 3: 13 Amp Plug Pins
For economic production of these critical safety items, brass is used to make the pins to ensure a long, trouble free life. Brass does not corrode in service, has good strength, conductivity and resistance to wear as well as being easy to manufacture. Some manufacturers machine pins from long coils of rectangular rod, others cut pins from an extruded profile that requires less machining.
The brass used for pins is CuZn39Pb3.
BS 1363, first introduced in 1947 and with revisions still current, covers materials for Line and Neutral Plug Pins. It states 'materials other than brass or nickel plated brass shall not be used in the construction of Line and Neutral Plug Pins'.
Brass plug pins (Courtesy of Wikipedia)
Quick Facts
Properties
These alloys have the following combination of properties:
Tensile Strength: 240-500 N/mm2
0.2% Proof Strength: 150-350 N/mm2
% Elongation: 40-3
Hardness (HV): 50-190
Electrical conductivity: 22-57% IACS
Thermal conductivity: 120-233 W/moC
Applications
Earthing pins
Charger pins
Socket pins
Connectors
Earthing clamps
Terminal blocks
Glands
Screws
Junction boxes
Light bulb caps
Available Forms
Plate
Profiles
Rod
Sheet
Strip
Tube
Wire