The addition of 0.05-0.15% zirconium to copper, results in a medium strength, heat treatable alloy with an increased softening temperature compared to pure copper whilst maintaining excellent electrical and thermal conductivity.
History
Copper-zirconium (CuZr, CW120C) was designated as a European alloy in The Compendium of Compositions and Properties PD CEN/TS 13388. There was no British standard for this alloy. A number of CuZr European proprietary alloys have been developed.
Heat Treatment
The properties of copper-zirconium are developed by a thermo mechanical heat treatment. This involves heating to 900-925oC and water quenching, cold working, ageing at 400-425oC and cold working to final dimensions.
Properties
The alloy has a combination of the following properties:
Tensile strength: 250-350 N/mm2
0.2% Proof strength: 170-260 N/mm2
% Elongation: 30-5
Hardness (HV): 75-165
Electrical conductivity: 60-95% IACS
Thermal conductivity: 340-350 W/m°C
The values are indicative of the range possible and they depend upon the form (sheet, strip, rod, wire, profiles and forgings), dimensions and heat treatment. Liaison with the stockist or manufacturer will be necessary to confirm that the required properties are available in a particular size. It should be noted that the mechanical properties given in the forging standard BS EN 12420:2014 are not mandatory; they are given for information purposes only.
The softening temperature of copper-zirconium is 500oC. This compares to 200oC for copper and 300oC for copper silver. This means that copper-zirconium components have increased life at higher working temperatures.
Fatigue Properties
The fatigue strength at 107 cycles is approximately 1/3 of the tensile strength.
Comparison with Alternative Alloys
Copper-zirconium is one of a number of copper alloys used in the construction of electric motors and generators. Arranged in order of decreasing electrical conductivity and increasing strength, the alloys are:
Oxygen-free copper (CW 009A)
Silver-bearing copper (CW017A)
Copper-zirconium (CW120C)
Copper-chromium-zirconium (CW106C)
Copper-nickel-silicon (CW109C)
The above sequence of alloys shows that as always, when selecting a copper alloy for a particular application a compromise has to be made; as strength increases, electrical conductivity decreases.
Fabrication
| | |
| --- | --- |
| Process | Rating |
| Cold formability | Excellent |
| Hot formability | Excellent |
| Soldering | Excellent |
| Brazing | Good |
| Oxyacetylene welding | Not recommended |
| Gas shield arc welding | Not recommended |
| Resistance welding | Not recommended |
This copper does not suffer from steam (hydrogen) embrittlement when heated in a hydrogen (reducing) atmosphere.
Machining
This is rated at 20% which is satisfactory. Free-machining brass is 100%.
Resistance to Corrosion
The resistance to atmospheric and marine corrosion is good, similar to that of pure copper.
Applications
Copper-zirconium is used for components where a higher softening temperature (500oC) than pure copper is required, together with moderate strength and good electrical and thermal conductivity.
Spot welding electrodes
MIG/MAG welding contact tips
Semi-conductor bases
Commutator bars
Radial stalks for generator rotors
Contacts
Lead frames
Circuit breakers
Spring contacts
Switch blade jaws
Stub bases for power transmission
Available Forms
Copper-zirconium is available in forgings, profiles, rod, sheet, strip and wire.
Specifications
Below are the specifications for Europe and the USA. Note that for USA, some compositions are not identical. For equivalent standards from other countries visit the Copper Key website.
Europe: CW120C (CuZr) (European Standard EN designation).
USA: C15000, C15100 (American Society for Testing of Materials ASTM designation).
Further information on copper-zirconium, and other conductivity materials, is available at the Copper Alloys Knowledge Base.
Application Example 1: Switch Blade Jaws
A knife switch is a type of switch used to control the flow of electricity in a circuit. It is composed of a hinge which allows a copper/copper alloy lever, or knife, to be lifted from or inserted into a slot or jaw. The hinge and jaw are both fixed to an insulated base, and the knife has an insulated handle to grip at one end. Current flows through the switch when the knife is pushed into the jaw.
The knife blade and jaws are made from CuZr. The alloy in the solution treated, aged and cold worked condition has superior hardness and strength compared to pure copper. It also has superior softening resistance, retaining its hardness up to 500oC. The electrical conductivity at 95% IACS is slightly lower than pure copper. The corrosion resistance in industrial atmospheres is excellent. The high ductility of CuZr means that the switches can be made easily into a rugged construction; this together with the combination of good mechanical properties at temperature and excellent electrical conductivity leads to a reliable heavy duty switch.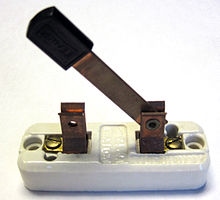 Switch blade jaws (Wikipedia)
Application Example 2: Resistance Welding Electrode
Copper-zirconium is the ideal cap electrode for resistance welding of light-to-medium gauge coated and uncoated steels and aluminium alloys.
Copper-zirconium electrodes require less energy in comparison to copper-chromium-zirconium (CuCrZr) and copper-chromium (CuCr) alloys. Copper-zirconium requires lower current due to its higher electrical conductivity. This results in longer electrode life, more consistent welds and energy savings. Welding current settings can be reduced by up to 20% from the CuCrZr and CuCr settings, with no loss in weld integrity.
Copper-zirconium electrodes are manufactured by cold forming and the maximum amount of cold work achieved, results in mechanical properties equivalent to CuCrZr and CuCr electrodes but with better electrical conductivity of 85% IACS compared to 80% IACS for the other alloys.

Resistance welding electrodes (Courtesy of Luvata)
Quick Facts
Properties
The alloy has the following combination of properties:
Tensile strength: 250-350 N/mm2
0.2% Proof strength: 170-260 N/ mm2
% Elongation: 30-5
Hardness (HV): 75-165
Electrical conductivity: 60-95% IACS
Thermal conductivity: 340-350 W/m°C
Applications
Spot welding electrodes
MIG/MAG welding contact tips
Semi-conductor bases
Commutator bars
Radial stalks for generator rotors
Contacts
Lead frames
Circuit breakers
Spring contacts
Switch blade jaws
Stub bases for power transmission
Available Forms
Forgings
Profiles
Rod
Sheet
Strip
Wire