Copper-iron-phosphorus-magnesium is a heat treatable copper-iron alloy with small additions of magnesium. It is stronger and harder than pure copper with slightly lower electrical conductivity.
History
Since the 1930s, copper has been alloyed with small amounts of magnesium as a lower cost alternative to silver. These alloys, developed in the USA, aim to increase the strength of copper particularly at temperatures up to 300oC, whilst maintaining a high electrical conductivity.
In 1980, the Olin Corporation USA developed a copper-iron-magnesium alloy specifically for electronic applications such as lead frames. The alloy, magnesium content 0.1 to 1.0%, is heat treatable and its properties depend on the formation of tiny (less than 0.5 micron) precipitates.
Further developments in the metallurgy of this alloy type continued with a Japanese alloy produced in 2004 with small additions of nickel, cobalt and zinc which after heat treatment, resulted in precipitates of 0.2 microns leading to improved strength, formability and conductivity.
Heat Treatment
The precipitation heat treatment involves heating the alloy to 800 to 900oC and water quenching. This is called solution treatment and the alloy is in its softest condition.
Subsequent precipitation (age) hardening at lower temperatures of 425 to 500oC, results in the formation of finely dispersed precipitates which are responsible for the increased strength, formability and hardness.
Properties
The alloy has a combination of the following properties as below:
Tensile strength: 296-552 N/mm2
0.2% Proof strength: 110-490 N/mm2
% Elongation: 15-2
Hardness (HV): 122-190
Electrical conductivity: 80% IACS
Thermal conductivity: 277-320 W/moC
Stress Relaxation
This is a decrease in stress under constant strain, typically observed in bolts in turbine casings at high temperatures, which must be regularly tightened.
With copper alloys used for electrical/electronic components, it is important to maintain good contact force throughout the functional life of the product and have good resistance to stress relaxation.
One indication of stress relaxation resistance may be obtained by measuring the % of stress which is retained as a function of temperature and time.
Results on test pieces for this alloy show that 70% of the applied stress (80% of proof stress) remained after 1000 hours at 150oC. This is useful information in the design of contacts, connectors, springs, relays and lead frames.
Fabrication
| | |
| --- | --- |
| Process | Rating |
| Cold formability | Good |
| Hot formability | Good |
| Soldering | Excellent |
| Brazing | Good |
| Oxyacetylene welding | Fair |
| Gas shield arc welding | Good |
| Resistance welding | Good |
Machining
Machinability rating is 20% which is adequate. Free-machining brass is 100%.
Resistance to Corrosion
The alloy has good resistance to corrosion in industrial and marine atmospheres. It is insensitive to stress corrosion cracking. However, it is susceptible to attack in the presence of ammonia, sulphur, hydrogen sulphide and mercury.
Resistance to Softening
Tests have shown that this alloy may be used for short periods up to 350oC without softening. A hardness of 180 HV was maintained for one hour at this temperature.
Applications
This alloy is suited to applications which require excellent formability, high strength and electrical and thermal conductivity, together with excellent corrosion resistance and solderability.
Lead frames
Fuse clips
Connectors
Circuit breaker components
Available Forms
CuFePMg is available as bar, plate, rod, sheet and strip.
Specifications
Below is the specification for US. For equivalent standards from other countries visit the Copper Key website.
USA: C19700 (American Society for Testing and Materials ASTM designation)
Further information on C19700 and other conductivity materials, is available at the Copper Alloys Knowledge Base.
Application Example 1: Fuse Clips
A fuse clip supports a fuse and provides electrical connection with it. The high strength, stiffness and electrical conductivity make this alloy ideal for this application.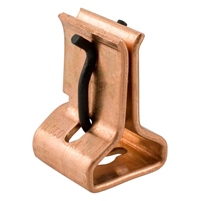 Fuse clip (Courtesy of Standard Electric Supply Co).
Application Example 2: Circuit Breaker Components
The high strength at temperature, high hardness and good conductivity make this alloy ideal for this application. The principle is to create a zero current condition within a few milliseconds.
Details of this circuit breaker are to be found in CDA Publication 223: Copper in Electrical Contacts.

Sequence of events in an arc quenching arrangement in a typical miniature circuit breaker.
Quick facts
Properties
The alloy has the following combination of properties:
Tensile strength: 296-552 N/mm2
0.2% Proof strength: 110-490 N/mm2
% Elongation: 15-2
Hardness (HV): 122-190
Electrical conductivity: 80% IACS
Thermal conductivity: 277-320 W/moC
Applications
Lead frames
Fuse clips
Connectors
Circuit breaker components
Available Forms
Bar
Plate
Rod
Sheet
Strip