All high conductivity coppers contain some oxygen as a result of the copper refining process but certain applications require copper with the highest purity and lowest oxygen levels, this is called Oxygen-free High Conductivity Copper (OFHC).
There are two grades: Cu-OF, with 99.95% copper and the higher purity Cu-OFE (oxygen-free electronic) with 99.99% copper with silver removed, and oxygen removed to 0.0005%. Cu-OFE is manufactured from pure copper cathode and poured under a protective gas atmosphere. It has about 1% higher electrical conductivity than Cu-OF and is used for high quality video and audio systems.
Copper minerals have to be separated from the waste rock formations in which they are embedded before production of pure copper can begin. It is a very impressive technological achievement to process rock with a few percent copper to a metal of 99.95% purity.
This is where the oxygen in air plays an important part.
The copper minerals are separated from the waste rock then crushed to a fine powder and melted in a furnace. Impurities are removed by either combining with fluxes to form a slag which is removed, or by being oxidised to vapour by air (oxygen). In oxygen-free high conductivity copper, all traces of oxygen are removed by either melting in a vacuum, using an inert atmosphere or a reducing environment resulting in a very pure (99.95%) copper.
It is not possible to remove every trace of impurity; no copper is 100% pure but OFHC has only a trace of oxygen. In practice the oxygen content is typically 0.001 to 0.003% with a total maximum impurity level of 0.03%.
It is the purest grade of any of the coppers.
History
An early application for OFHC was in the magnetron which was invented in the 1920s. The high conductivity, high purity and low volatility under high vacuum make it ideal for this use because it is not subject to outgassing (release of trapped gas such as oxygen). Tough pitch copper is unsuitable for this application since it is less pure and might outgas under high vacuum.
The historical significance of the magnetron is that it allowed the development of radar and its use in defence in planes, ships and submarines in the 1940s.
Magnetrons are used to produce microwaves in microwave ovens.
Heat Treatment
It may be necessary to stress relieve copper to reduce the possibility of distortion or cracking after machining or cold working. This may be done at 150 to 200oC but it does not soften the copper. If this is required then a full anneal at 400 to 650oC is needed.
Copper cannot be hardened by heat treatment. It does not become harder with time – it does not have a 'shelf life'.
Properties
A summary of the properties is shown from the annealed (soft) condition to hard.
Tensile strength: 222-385 N/mm2
0.1% Proof strength: 60-325 N/mm2
% Elongation: 60-4
Hardness (HV): 45-115
Electrical conductivity: average of 102% IACS and a guaranteed value of 101% IACS. This is the highest conductivity of all the coppers.
Thermal conductivity: 386-394 W/moC
In European Specifications, copper is specified by either a hardness range, H, or a tensile strength range, R, (but not both).
Fabrication
| | |
| --- | --- |
| Process | Rating |
| Cold formability | Excellent |
| Hot formability | Excellent |
| Soldering | Excellent |
| Brazing | Excellent |
| Oxyacetylene welding | Fair |
| Gas shield arc welding | Good |
| Resistance welding | Poor |
This copper does not suffer from steam (hydrogen) embrittlement when heated in a hydrogen (reducing) atmosphere.
Machining
OFHC copper, like other pure coppers, cannot be regarded as a free-machining material, yet it is not difficult to machine, especially in the work-hardened condition, and has a machinability rating of 20% (free-machining brass is 100%).
Resistance to Corrosion
The higher purity (99.99%) of Cu-OFE gives it the best corrosion resistance of any of the coppers. This is because it is a single phase structure with no second phases (impurities) present which might form tiny galvanic cells and cause galvanic corrosion. The excellent corrosion resistance was a major factor in the choice of OFHC for nuclear waste disposal canisters where the microstructure of the weld is particularly important, with no corrosion at all permitted in the very long life envisaged.
Resistance to Softening
Softening is time and temperature dependent and it is difficult to estimate precisely the time at which it starts and finishes. It is usual, therefore, to consider the time to 'half-softening', i.e. the time taken for the hardness to fall by 50% of the original increase in hardness caused by cold reduction. In the case of OFHC copper, this softening occurs at temperatures above 150oC. It has been established experimentally that such copper would operate successfully at a temperature of 105oC for periods of 20-25 years, and that it could withstand short-circuit conditions as high as 250oC for a few seconds without any adverse effect.
Creep
Creep is slow deformation of a material with time at temperature and must be allowed for in the design of any component operating above room temperature.
Sulphur has an adverse effect on the creep resistance of copper: in OFHC, sulphur is kept below 8 ppm which gives OFHC the best creep resistance of the coppers. The temperature limit for OFHC is about 200oC.
Applications
The purity of OFHC makes it suitable for conductivity applications in vacuum conditions. OFHC is used for:
Microwave tubes
Vacuum capacitors
Vacuum interrupters
Vacuum seals
Vacuum tubes for radio and TV transmitters, klystrons and magnetrons
Waveguides
Available Forms
OFHC is available in bar, plate, profiles, rod, sheet, strip, tube and wire.
Specifications
Below are the specifications for Europe, USA and Asia. Note that for USA and Asia, some compositions are not identical. For equivalent standards from other countries visit the Copper Key website.
UK: C103 (Cu-OF), C110 (Cu-OFE) (British Standard BS designation). UK Standards are superseded by European Standards.
Europe: CW008A (Cu-OF), CW009A (Cu-OFE) (European Standard EN designation).
USA: C10100 (Cu-OFE), C10200 (Cu-OFE) (American Society for Testing and Materials ASTM designation).
Japan: C1020 (Japanese Industrial Standards JIS designation).
Further information on oxygen-free copper silvers, and other conductivity materials, is available at the Copper Alloys Knowledge Base.
Application Example 1: Particle Accelerators
The Large Hadron Collider is the world's largest and most powerful particle collider built to investigate the structure of the sub-atomic world and laws governing it. Particles are fired at 99.99% of the speed of light and are steered by 1600 superconducting magnets which are kept at -271.25oC by 96 tonnes of liquid helium. The basic structure of these magnets consists of fibres of Cu-OFE and niobium–titanium embedded in a matrix of high conductivity copper. The magnets keep the particles on their orbit around the machine and focus the beams.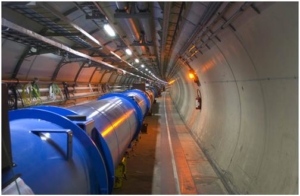 The main bending magnets of the Large Hadron Collider are made from niobium-titanium conductors with a surrounding copper matrix and reach a maximum magnetic field of 8.3 T at currents of 12.84 kA. (Courtesy of CERN.)
Application Example 2: Magnetrons
OFHC is used in specialist, powerful electronic equipment such as that used to generate microwaves. Microwaves are the invisible, super-energetic, short wavelength radio waves that travel at the speed of light used in microwave ovens and radar (radio detection and ranging) navigation equipment.
Microwaves are made by a magnetron which at its heart has a ring shaped OFHC copper cathode which vibrates and emits microwaves when excited by a stream of electrons emitted in a vacuum from an anode. The microwaves are channelled by an OFHC waveguide, either into the cooking compartment of a microwave oven or beamed out into the air by an antenna or satellite dish in radar equipment.
The high conductivity, high purity and low volatility under high vacuum make OFHC ideal for use in a magnetron because it is not subject to outgassing (release of trapped gas such as oxygen). Tough pitch copper is unsuitable for this application since it is less pure and might outgas under high vacuum.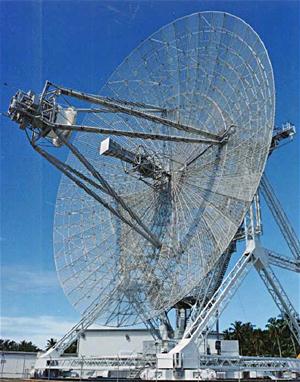 Long-range radar antenna, used to track space objects and ballistic missiles. (Courtesy of Wikipedia.)
Quick facts
Properties
In the annealed (soft) to hard condition the alloy has the following combination of properties:
Tensile strength: 222-385 N/mm2
0.1% Proof strength: 60-325 N/mm2
% Elongation: 60-4
Hardness (HV): 45-115
Electrical conductivity: average of 102% IACS and a guaranteed value of 101% IACS. This is the highest conductivity of all the coppers.
Thermal conductivity: 386-394 W/moC
Applications
Microwave tubes
Vacuum capacitors
Vacuum interrupters
Vacuum seals
Vacuum tubes for radio and TV transmitters, klystrons and magnetrons
Waveguides
Available Forms
Bar
Plate
Profiles
Sheet
Strip
Tube
Wire