Oxygen-free Extra Low Phosphorus Copper (Cu-PHC) is a deoxidised, oxygen-free copper with extra low phosphorus used where special requirements, with respect to conductivity, formability, weldability and brazability, are required.
All high conductivity coppers contain some oxygen as a result of the copper refining process but certain applications require copper with the highest purity (99.95%) and lowest oxygen levels, this is called oxygen-free high conductivity. It is impossible to remove every trace of impurity, and no copper is 100% pure, but oxygen-free copper has 0.001 to 0.003% oxygen with a maximum impurity level of 0.03%. The small amount of oxygen is removed by a de-oxidiser, phosphorus, which does have a deleterious effect on the electrical conductivity which is about 99% IACS.
Heat Treatment
It may be necessary to stress relieve Cu-PHC to reduce the possibility of distortion or cracking after machining or cold working. This may be done at 150 to 200oC. This does not soften the copper, if this is required then a full anneal at 400 to 650oC is required. Copper cannot be hardened by heat treatment. It does not become harder with time. It does not have a 'shelf life'.
Properties
A summary of the properties of Cu-PHC from the annealed (soft) to the hard condition is shown.
Tensile strength: 220-385 Nmm2
Proof strength: 60-325N/mm2
% Elongation: 55-4
Hardness (HV): 45-155
Electrical conductivity: 99-100% IACS
Thermal conductivity: 390 W/moC
Fabrication
| | |
| --- | --- |
| Process | Rating |
| Cold formability | Excellent |
| Hot formability | Excellent |
| Soldering | Excellent |
| Brazing | Excellent |
| Oxyacetylene welding | Good |
| Gas shield arc welding | Good |
| Resistance welding | Poor |
This copper does not suffer from steam (hydrogen) embrittlement when heated in a hydrogen (reducing) atmosphere.
Machining
Cu-PHC has a machinability rating of 20% (free-machining brass is 100%) so like other pure coppers it cannot be regarded as a free-machining material. However, it is not difficult to machine, especially in the work hardened condition.
Resistance to Corrosion
All coppers corrode at negligible rates in unpolluted air and water due to the formation of a protective oxide surface layer. Copper artefacts have been found in nearly pristine condition after being in the earth and under the sea for thousands of years. However, copper is susceptible to more rapid attack in the presence of ammonia, sulphur, hydrogen sulphide and mercury. Cu-PHC copper is virtually immune to stress corrosion cracking.
Resistance to Softening
Softening is time and temperature dependent and it is difficult to estimate precisely the time at which it starts and finishes. It is usual therefore to consider the time to 'half-softening', i.e. time taken for the hardness to fall by 50% of the original increase in hardness caused by cold reduction. In the case of Cu-PHC, this softening occurs at temperatures above 150oC. It has been established experimentally that such copper would operate successfully at a temperature of 105oC for periods of 2-25 years, and that it could withstand short-circuit conditions as high as 250oC for a few seconds without any adverse effect.
Creep
Creep is slow deformation of a material with time at temperatures and must be allowed for in the design of any component above room temperature.
Cu-PHC copper does not creep at room temperature (unlike high conductivity aluminium) under normal stresses. However, creep must be considered in the temperature range above 150oC. However, this temperature is well above the usual operating temperature of applications such as busbars.
Applications
Telecommunications – transmission of high frequency signals via coaxial cables
Submarine cable strips
Wave guide tubing
Commutators
Tubular busbars
Terminals
Available forms
Cu-PHC is available as bar, extrusions, forgings, plate, sheet, strip, tube and wire.
Specifications
Below are the specifications for Europe and the US. Note that for USA, some compositions are not identical. For equivalent standards from other countries visit the Copper Key website.
Europe: CW020A (Cu-PHC) (European Standard for EN designation).
USA: C10300 (Cu-OFXLP) (American Society for Testing and Materials ASTM designation).
Further information on Cu-PHC, and other conductivity materials, is available at the Copper Alloys Knowledge Base.
Application Example 1: Tubular Busbars
Tubular copper busbars lend themselves to cooling by forced air or liquid cooling where heat can be removed efficiently from the internal surface of the tubes. Current ratings of several times the natural air cooled value are possible using forced cooling with the largest increases when liquid cooling is employed. A tubular busbar also occupies less space than the more usual copper laminated bar and has a further advantage that its strength and stiffness are greater and uniform in all directions compared to solid busbars.
Cu-PHC is an excellent choice for tubular busbars if connections have to be made by soldering brazing or welding. Since it is deoxidised oxygen-free with extra low phosphorus there is no problem with steam (hydrogen) embrittlement. It has an excellent conductivity of 90 to 100% ICAS.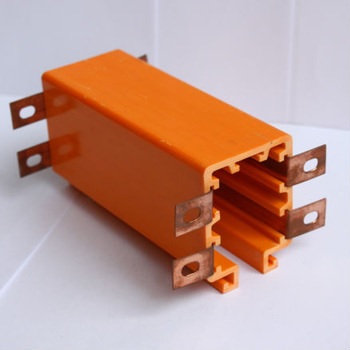 Tubular busbar (Courtesy of Henan Shengyuan Crane Co Ltd).
Application Example 2: Waveguide
A waveguide is a special form of transmission line consisting of a hollow, metal tube.
Waveguides may be thought of as conduits for electromagnetic energy, the waveguide itself acting as nothing more than a "director" of the energy rather than as a signal conductor in the normal sense of the word.
They are capable of directing power precisely to where it is needed and can handle large amounts of power.
A waveguide assembly may have a large number of brazed joints, this makes Cu-PHC ideal for this application since because it is deoxidised oxygen-free copper with extra low phosphorus there is no problem with steam (hydrogen) embrittlement.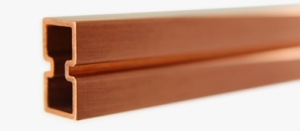 Waveguide (Courtesy of Amari Precision Tubes)
Quick facts
Properties
In the annealed (soft) to the hard condition the alloy has the following combination of properties:
Tensile strength: 220-385 Nmm2
Proof strength: 60-325N/mm2
% Elongation: 55-4
Hardness (HV): 45-155
Electrical conductivity: 99-100% IACS
Thermal conductivity: 390 W/moC
Applications
Telecommunications – transmission of high frequency signals via coaxial cables.
Submarine cable strips
Wave guide tubing
Commutators
Tubular busbars
Terminals
Available Forms
Bar
Extrusions
Forgings
Plate
Sheet
Strip
Tube
Wire