This article is no longer actively maintained. While it remains accessible for reference, exercise caution as the information within may be outdated. Use it judiciously and consider verifying its content in light of the latest developments.
-----
Do you like to listen to the radio in the bathroom when getting ready in the morning? Perhaps you prefer some music when preparing dinner, working in the garage, or before going to sleep?
You could opt for a portable radio you have to drag along wherever you go, or even install a radio in each of these rooms, but that takes up valuable workspace. The first option also requires a socket, unless you enjoy constantly buying and putting in new batteries. Mind your eyes, too, because that extendable antenna can wind up pointing in unfortunate directions!
Stationary devices not only require a wall plug, they also need a connection for the antenna, which is not always available where you would like to place the radio. All of these disadvantages might just be enough to convince you to confine your listening to the living room. However, there is a third option.
Integrate your Radio into the Wall
Many manufacturers of switches and wall plugs now offer built-in radios. These consist of two modules: a radio and speaker. Both parts are built-in into the wall using the same type of standard in-the-wall boxes used for switches and sockets, and you can choose a horizontal or vertical installation.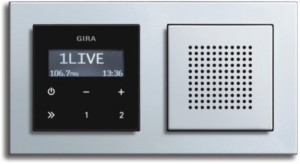 Courtesy of Gira
The finished unit uses the same colours and materials as your other switches. In some cases, the speaker can be mounted into the wall at a different location. If you want two speakers, the radio will automatically switch from mono to stereo.
Advantages and Possibilities
Such radios do not take up space on work surfaces and only require connection to the main grid in the same manner as a regular socket. This mains connection also uses the household wiring as a sensitive antenna. The radio module is equipped with a touchscreen, which can be used to switch the radio on and off, control the volume and select one of two preferred channels. Of course, you can still choose among other stations since the display shows the channel's frequency. If it contains an RDS signal, the name of the station will be displayed in large letters; the frequency and time will appear in smaller letters and numbers.
Other Features
In most cases, it is possible to connect an external source such as an MP3 player to the radio. Certain devices can also be plugged in from a distance, for instance when the lights are switched on. In sleep mode, the radio turns itself off after half an hour. But by then, you will probably have dozed off anyway.