The age of the portable tape recorder is long gone. Today, it is all about mobile devices such as your mobile phone, digital camera, GPS, MP3, laptop, and tablet. In almost every case, these devices have a built-in rechargeable battery that needs to be charged on a regular basis. So, how do we do that charging conveniently?
The Downside of Traditional Chargers
Until recently, each device came with a charger. The connection to the unit was almost guaranteed to be device-specific. For instance, the charger for your mobile phone did not fit your daughter's phone, because it was another model or brand. You could also forget about using one kind of charger to top up some other type of device, such as an MP3 player. In other words: no phone calls or listening to music when we left the house without the proper charger.
Charging Mobile Devices via USB
The European Community now obliges manufacturers of mobile devices to provide their products with a universal connection for chargers. Manufacturers opted for the USB Type A connection. A new mobile device probably still comes with a charger, but the box will definitely also include a cable with a universal USB plug at one end. This enables you to charge your mobile devices using a USB connection without having to use various different chargers. As a result, the user's convenience and comfort has increased. That is, unless you have to start up your computer first. However, there is a solution.
USB Chargers in the Wall
Most manufacturers of switches now have a USB wall plug in their portfolio. The device is built into the wall just like a normal socket. It only needs a 230V connection. Most USB modules have two USB ports at the front, each supplying a 5 V DC voltage for charging mobile devices. It is possible to charge two devices at the same time. Normally, this would require two separate sockets.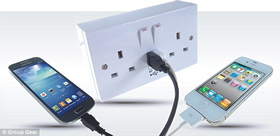 USB charger (Courtesy of Group Gear)

To be perfectly clear, such USB wall plugs only provide power; they cannot be used for transferring data.
Certain manufacturers also offer the combination of a traditional 230V wall plug and a USB charging point, which fits nicely into a standard built-in box.
Where Do you Want to Use it?
Imagine the convenience of multiple USB wall plugs anywhere you might need them. For instance, in the living room, study, kitchen, or bedroom, to name just a few locations. It is simple to replace an existing traditional socket with a USB wall plug, or a combined USB 230V socket. In other words, separate chargers are history. Put your charger in the wall.