Topline messages:
on average between 2 and 3 tons of copper per MWp.
typical use 2.5 tons per MWp for utility-scale installations.
typical use 4 kg per kWp for residential solar roofs.
-----
The copper intensity of use (tCu/MWp) in photovoltaic power systems depends on several factors. Copper use can vary from around 2 tCu/MWp to more than 5 tCu/MWp. Some of the major factors determining this use are:
The size of a plant - as with most energy systems, smaller plants have to a higher copper intensity of use.
The types of panels used.
The scope of reporting - about a quarter of copper is used on the panels, and three quarters in the balance of plant.
The choice of the conductor material, particularly for the cabling and transformer in the balance of plant.
Referring to the picture below, copper can be used in 11 parts of a photovoltaic power system: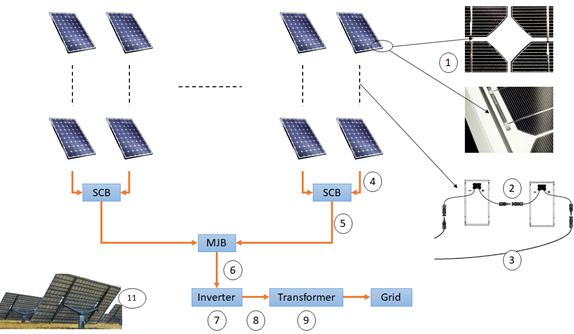 PV cells (ribbons, busbars)
Module cables
Panel interconnection cables
String controller box, feeding cables
Main junction box, feeding cables
Inverter feeding cables
Inverter
Transformer feeding cables
Transformer
Earthing
Tracker feeding (not applicable for fixed tilt installations)
References
Navigant, 2018, North American Solar PV Copper Content Analysis, report for Copper Development Association
IEA-PVPS, 2020, Trends in Photovoltaic Applications 2020
IEA-PVPS, 2020, Life Cycle Inventories and Life Cycle Assessments of Photovoltaics Systems
-----
Last update: April 6, 2022