This article is no longer actively maintained. While it remains accessible for reference, exercise caution as the information within may be outdated. Use it judiciously and consider verifying its content in light of the latest developments.
-----
Smaller renovations and extensions to the electrical installation in existing homes are not always easily and aesthetically accomplished. Grinding or cutting into walls to install additional wiring and cables is usually out of the question because wallpaper, painted walls, panelling, floors and ceilings may not be damaged.
The solution to this problem is the use of so-called plinth systems and installation ducts. Let's examine the possibilities.
Plinth Systems
Numerous manufacturers have plinth systems in their product range. They are mostly used in existing homes where smaller renovations or extensions to the electrical installation are needed.
Sometimes, they are installed as a wall plinth. These are then placed against the wall, straight onto the floor, as a replacement for conventional wooden or stone skirting boards. The wiring can be easily hidden away in these plinths, which are usually made of PVC.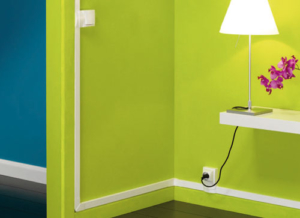 Adapted plinths can be obtained for vertical installation, for example to a switch. These can be placed quite aesthetically next to a doorframe. Small, beam-shaped ducts are also offered in plinth systems. They are placed above the existing skirting board.
The plinth systems are too compact for installing devices such as switches and power sockets into them. There are however specially designed matching components for this. Virtually every plinth system and installation duct also has a range of accessories to help provide a good finish for inside and outside corners, flat corners, end pieces, etc.
Installation Ducts
Installation ducts are larger compared with plinth systems. They have to be, as they are not only used for accommodating wiring, but also for mounting switches, power sockets and other devices, such as data, TV, motion detector, etc.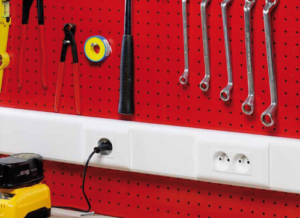 Installation ducts are ideal for placing several power sockets over a workbench in the garage, or for providing various types of connections over a desk or in the kitchen. Installation ducts usually have a variety of colour and material options, such as PVC, aluminium, etc.
Installation
Every plinth system and installation duct consists of two parts: a base and a cover. Depending upon the size of the duct, it can be screwed onto the wall or affixed using adequate installation glue. After installing the wiring and any devices, the cover is simply clicked onto the base without tools.
Aesthetics
The most aesthetic electrical installation is of course one which is installed inside the wall. However, if that is impossible, plinth systems and installation ducts offer an attractive alternative.
Care must be taken that accessories such as corners are used appropriately and in the prescribed manner. Moreover, it is usually possible to paint plinths and installation ducts in a colour that best matches your interior. This will make them less obvious and they will blend seamlessly into the rest of the space.
Advantages
If there is no possibility for hiding wiring in the wall, plinth and installation ducts offer an attractive way of making your electrical installation more flexible and providing additional functionality. Placing an additional power socket in a plinth or installation duct is simple.