Tin Bronze and Phosphor Bronze
These alloys of copper and tin were the first metallic alloys to be developed by mankind, about four thousand years ago, and were used for coins, weapons, tools, jewellery and ornaments. They revolutionised the way man lived, leading to archaeologists naming the period the Bronze Age.
In modern times wrought bronzes have been developed with 4-8% tin which are harder, stronger, and stiffer than wrought brasses and, in strip and wire form, are produced with a combination of high yield strength and good corrosion resistance. The addition of small amounts (0.01-0.45%) of phosphorus increases the hardness, fatigue resistance and wear resistance, leading to their use in applications such as springs, bellows, flexible tubing, fasteners, masonry fixings, shafts, valve spindles, gears and bearings.
Alloying elements with copper, in this case tin and phosphorus, can result in lower electrical conductivity compared to pure copper. The most widely used phosphor bronze for electrical purposes contains 0.2% phosphorus and 5% tin and has an electrical conductivity of 15% IACS (Copper is 100% IACS). However, the combination of high yield strength, which gives a good contact force, and good corrosion resistance make this bronze ideal for a wide range of small electrical connectors, switches, current carrying springs and rotor bars. These properties are retained at high operating temperatures.
Wrought leaded phosphor bronzes (3-4% lead) combine the above properties with outstanding machinability and significant self-lubrication, self-seating and alignment in bearing applications and excellent resistance to seizure. Applications include thrust washers, bearing bushes, cams, clutch plates, intricate machined fasteners and other turned parts, clock and instrument parts, gears, pinions, pump and valve spindles and engraved components.
Phosphor bronzes with higher tin contents are available in all the common cast forms. They have up to 13% tin and 2.5% lead (for machinability) and nickel (for strength and hardness) and are widely used for bearings and gears.
Bell Metal
A phosphor bronze with 20 to 24% tin has been used for centuries for the sand casting of bells of all types such as church bells, hand bells and ships' bells. The bells are carefully machined and polished to give the exact notes required. In the atmosphere, the bells will slowly patinate, which protects the surface from further corrosion, leading to a very long service life.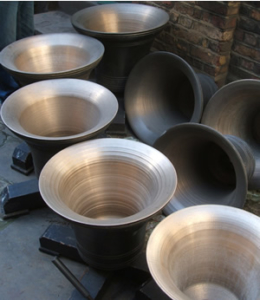 Bells at Whitechapel Foundry (Courtesy Whitechapel Foundry)
Aluminium Bronze
These are alloys of copper with 5-12% aluminium, some having additions of iron, nickel, manganese and silicon, available in cast and wrought form. They are stronger than brasses or tin bronzes with better corrosion resistance due to a hard, adherent, protective alumina film (Al2O3). They have an attractive golden colour, with very little tarnishing with time. The major use for aluminium bronzes is in seawater applications, such as:
Fasteners
Pumps and valve components
Pipe fittings
Heat exchangers
Bearings
Propellers.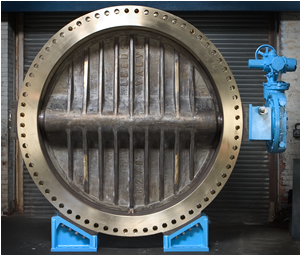 1500mm butterfly valve in aluminium bronze (Courtesy Severn Leeds Valve)
For marine applications they meet exacting Def Stan (Defence Standard) specifications (previously Naval Engineering Standard – NES), and are widely used for MOD applications.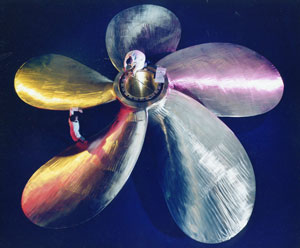 95 tonne bronze propeller
The durability and golden colour makes aluminium bronze an attractive proposition for architects, for example as cast upright balustrades for the Sackler Crossing in Kew Gardens, London. The alloy used for this project was CuAl8Fe3; the balustrades were polished to the required finish and waxed in situ.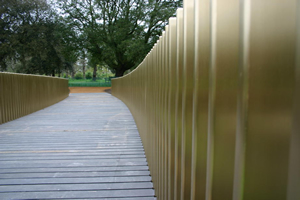 Aluminium bronze balustrades on Sackler Crossing, Kew Gardens, UK (Courtesy Copper Alloys Ltd)
Nickel Aluminium Bronze
Of the aluminium bronze alloys, the nickel aluminium bronze group is the most widely used. These alloys have high strength, corrosion, wear and galling resistance and have been adapted over time to optimise performance. They can provide a combination of properties offering an economic alternative to other types of alloy systems, and their applications include landing gear bearings in commercial aircraft.
The CDA publication Guide to Nickel Aluminium Bronze for Engineers offers practical guidance for engineers wishing to specify, design or produce nickel aluminium bronze components for marine, aerospace and other sectors.
Silicon Bronze
This is an alloy of copper with 3% silicon and 1% manganese. It has a good combination of strength, ductility, corrosion resistance and weldability. It is used in architectural applications such as:
Door fittings
Railings
Church doors
Window frames
Hinges
Wall ties
Fastener material for marine applications.
The alloy is a firm favourite with sculptors and metalsmiths because of its workability, longevity and attractive golden bronze colour.
Silicon bronze is also widely used for marine hardware and fasteners such as bolts, clamps, screws, nuts, rivets and U bolts.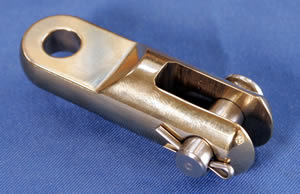 Silicon bronze rigging toggle for mast support
Manganese Bronze and Architectural Bronze
By composition these alloys are brasses but have picked up the 'bronze' name because of their colours. Manganese bronze CuZn40Mn1Pb1 (CW720R) is a brass used for architectural applications where the manganese leads to the formation of an attractive chocolate brown colour.
The term 'architectural bronze' is sometimes applied to a leaded aluminium brass CuZn41Pb1Al (CW620N) which, due to the aluminium, develops an attractive golden lustre. Like all brasses, this alloy combines longevity with an aesthetic appeal which improves with time and gives a feeling of luxury and prestige to any building both inside and out. It is available as profiles and rectangular bar and is used for window frames, cladding, doors and curtain walls. It is usually finished by waxing to maintain the appearance.