While copper is unique as a metal, its production also shares many aspects with other metals:
New mining projects are subject to extensive consultations with local communities and negotiations with local and national governments.
New mines need a long time to start up: depending on the the regulatory environment and how stakeholder consultations go, typical start-up times vary between 5 and 15 years.
Ore grades are generally declining.
Mining costs are going up - e.g. a hauling vehicle in Chiquicamata needs 3 hours from the bottom of the pit to the concentrator plant. With changing market conditions, a mining project is a continual business decision.
Mining projects are capital-intensive. They also have high operational costs (labour, energy, water).
Mining is risky business, and these risks lead to a higher cost of capital.
For underground mining, the management of heat, humidity and water in a space-constrained environment is a constant struggle.
Most mines need some level of concentration of materials, and in any case, management of both hazardous & non-hazardous waste.
All mining is looking for reuse of its waste rock in building construction and civil engineering. The circularity potential from mining is not yet well understood and largely untapped.
Water use and discharge - in some cases, risk of pollution of nearby rivers or lakes.
Besides water, mining requires energy and explosives.
During a mining operation, a certain on-site loss of biodiversity might be unavoidable. There are mitigation, offsetting and other possibilities open to restore biodiversity and achieve no-net-loss.
Mining changes landscapes in an often irreversible manner. A mining project includes a rehabilitation plan repurpose an area after a mining project has been completed. Some very creative uses for mines have been found after closure [2].
Location: most metal mining takes in remote places that are far away from where mining products are used.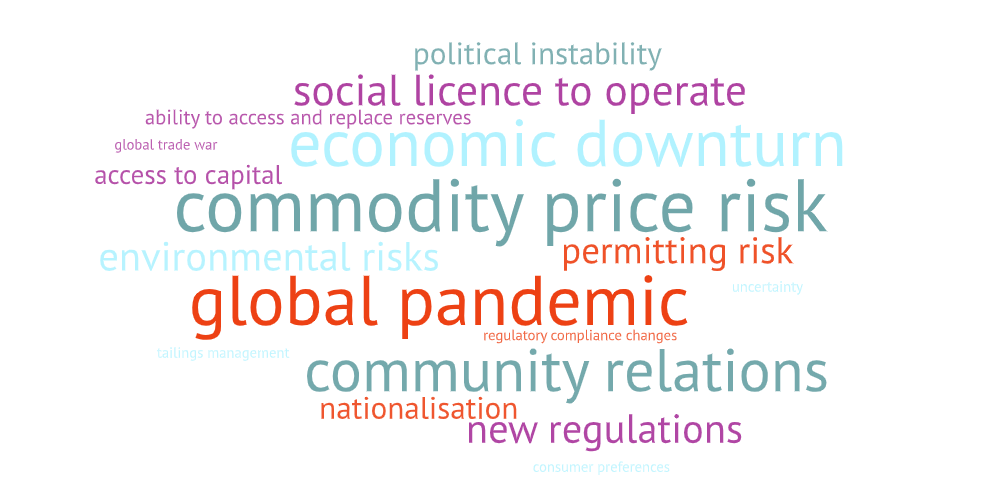 Major mining risks, as perceived by industry executives in KPMG's 2021 mining report [1]
References
[1] KPMG, Global Mining Risk Survey Report 2021, https://home.kpmg/xx/en/home/insights/2021/02/risks-and-opportunities-for-mining.html (accessed March 14, 2022)
[2] Georgine Pearman, 101 Things to Do with a Hole in the Ground, https://www.worldcat.org/title/101-things-to-do-with-a-hole-in-the-ground/oclc/1026212499 (accessed March 14, 2022)
-----
Last Update: April 11, 2022