From its original home buried underground in a mine to its use in a finished product such as wire or pipe, copper passes through a long journey.
Primary copper production starts with the extraction of copper-bearing ores. There are two basic ways of copper mining: surface and underground mining. Due to copper being spread in relatively low concentrations over large areas, surface, or open-pit mining, is the predominant mining method for copper in the world.
After mining, copper is produced by one of two process routes: pyrometallurgical or hydrometallurgical. About 80-85% of copper production follows the pyrometallurgical route.
Within the pyrometallurgical route, the mined ore is crushed and milled, followed by a concentration step using flotation. The obtained copper concentrates contain on average 30 percent copper, but grades can range from 20 - 40 percent (ICSG, 2016). In the following smelting process, copper is transformed into a "matte" containing 50 – 70 percent copper. The matte is either flash converted or processed in a converter resulting in blister copper of 98.5 – 99.5 percent copper content. In the next step, the blister copper is fire refined by the traditional process route or re-melted and cast into anodes for electro-refining. The output of electro-refining is refined copper cathode, containing over 99.99 percent copper.
Alternatively, the hydrometallurgical route extracts copper from mainly low grade oxide ores and some sulfide ores through leaching, solvent extraction (also referred to as solution extraction), and electrowinning, often called the SX-EW process. The final product is the same as through the pyrometallurgical route—refined copper cathode containing over 99.99 percent copper. The figure below shows the basic steps in the production of refined copper cathode.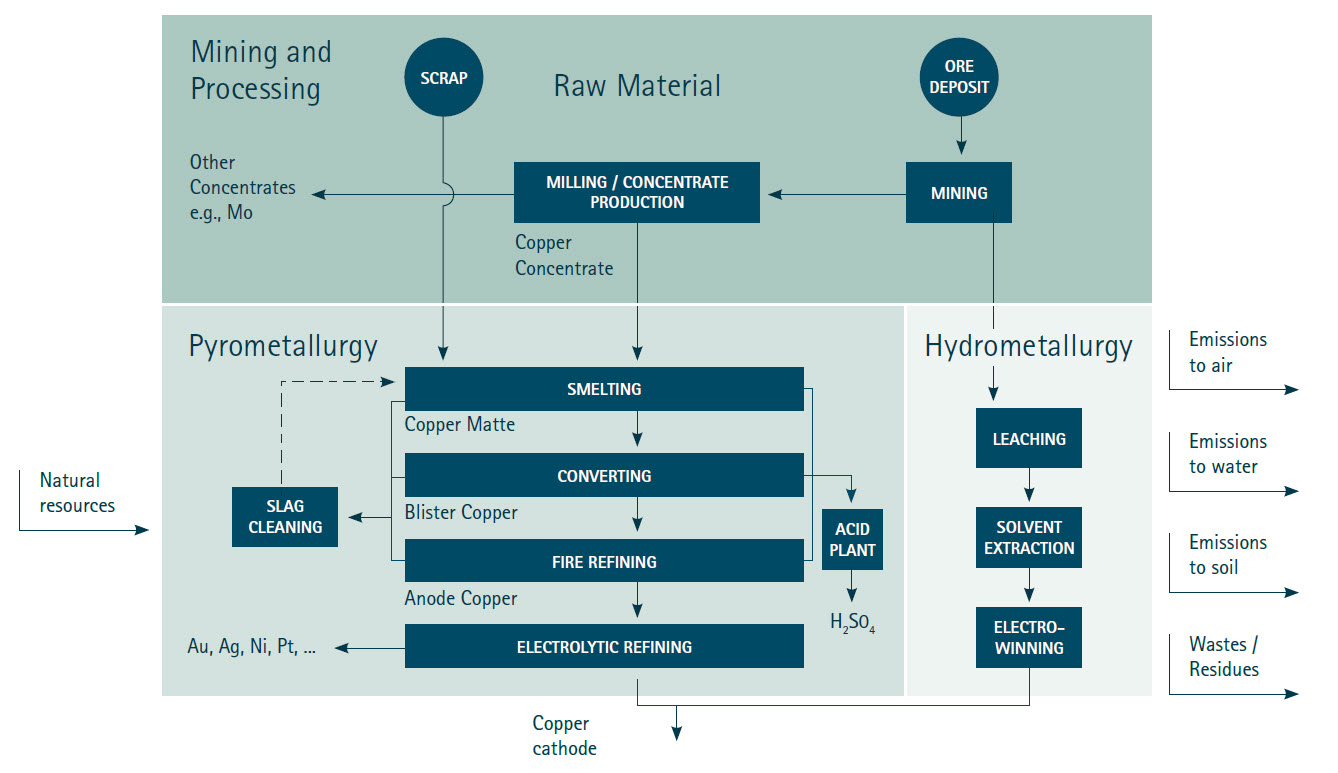 Secondary copper production utilizes a variety of secondary copper containing materials such as copper scrap from metals discarded in either semi-fabrication or finished product manufacturing processes ("scrap from fabrication") or obsolete end-of-life products ("end-of-life scrap"). These two scrap flows are split into low and high grade scrap (see also the
copper flow model
). Low grade scrap moves again through a smelter & refining process and produces a secondary copper of identical quality as primary copper. High grade scrap can be directly melted by fabricators to produce copper products that do not need the 99.99% purity required for electrical conductivity applications.
-----
Last update: November 18, 2021
-----