Copper is seldom mined alone and comes with a range of by-products. Some of these metals are economically very important (e.g. gold and silver). They contribute to the profitability of a mining operation and are usually accounted for as negative costs. Others are important because of their toxicity which needs to be adequately managed while these metals might find limited uses in specialised applications (e.g. arsenic, cadmium or thallium). A third group of elements serves significant and often growing market niches.
For some of these elements, copper mining complements the production infrastructure of the by-product (e.g. gold, silver, lead, zinc or molybdenum). Other minor metals have limited or no own production infrastructure (e.g. selenium or tellurium).
Hereby a list of commonly found by-metals in copper mining with a few of their applications:
Bismuth: low melting alloys for soldering or as an additive to improve machinability
Cobalt: superalloys, batteries
Gold: jewelry, electronics, monetary uses. Freeport's Grasberg mine is one of the world's largest deposits for both copper and gold.
Molybdenum: alloying element, catalyst, wires for high-temperature heating. Codelco is one of the world's largest molybdenum producers.
Nickel: stainless steel, superalloys, batteries.
Rare Earth Elements, e.g. cerium, dysprosium, lanthanum, neodynium, praseodynium: alloys, magnets
Rhenium: superalloys, catalyst.
Selenium: glass industry, silicon cells, food additive. The world's largest producer is RETORTE, a subsidiary of Aurubis.
Tellurium: steel or copper additive to improve machinability, element for thin-film photovoltaics. Rio Tinto will build a plant to recover tellurium at its Kennecott mine.
Silver: reflective coatings, jewelry, imaging, medical devices, high performance batteries, catalyst. KGHM is one of the world's largest silver producer.
The figure below provides a graphical overview of the many by-products of copper smelting and refining that can be obtained both from primary and secondary sources (enclosed by solid circles: cobalt, gold, lead, nickel, most platinum group metals, selenium, silver, zinc) while for some, the origin—primary or secondary source - is not quite clear from published documents (enclosed by dashed circles: antimony, arsenic, bismuth, tellurium). Finally, tin is recovered exclusively from secondary sources.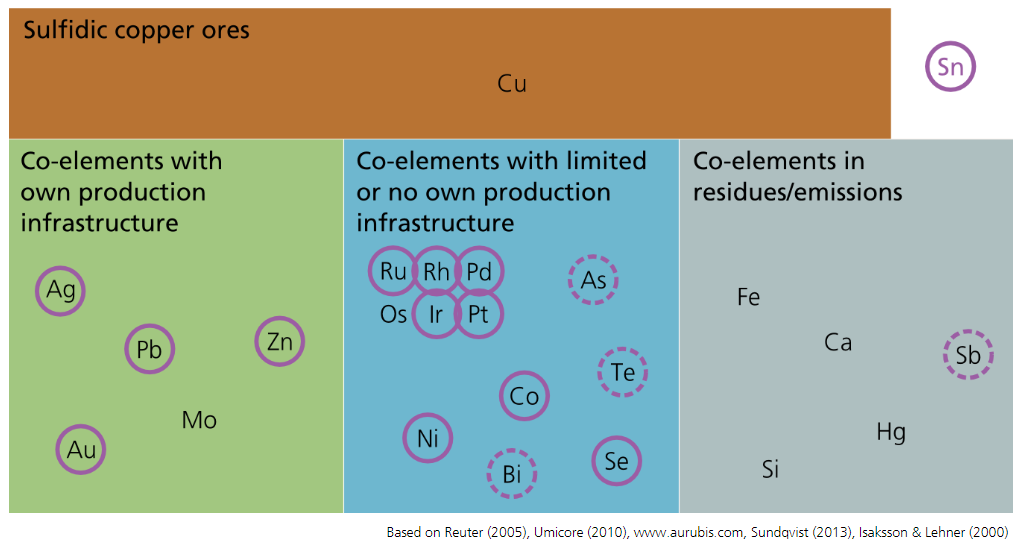 -----
References
-----
Last update: October 19, 2021