Shutters and sunscreens not only increase comfort and safety, they can also help you save energy when automated. We explain why and how.
Disadvantages of Manual Operation
Placing shutters and sunscreens is a good thing. However, there are some disadvantages when they are operated manually. For instance, users need to run through the entire house several times a day – especially in the morning and the evening – to open or close the shutters. They cannot be closed or opened when there is nobody home. When the sun starts shining on a summer's day while you are already at work, the house begins to take in lots of solar heat. As a result, several rooms will be overheated and you will have to turn on the air conditioning when you return.
Stand-alone Systems
Most manufacturers of shutters and sunscreens offer a stand-alone system. Shutters and sunscreens can be controlled individually, or as a group, using service buttons in the wall or remote controls. It is an excellent idea to place light and wind sensors to control the sunscreens. In the event of lots of sunshine, the sunscreen will open. It will close when it gets darker, or when the wind is picking up. Generally, the shutters are managed as a function of time and light.
In winter, many basic stand-alone systems continue to operate the same as they do during summer. When there is sun, selected shutters and sunscreens are rolled down. This is a disadvantage. When the sun shines during the wintertime, the solar heat can help maintain the temperature inside the house. By closing the shutters and sunscreens, you deny yourself all of this free heat.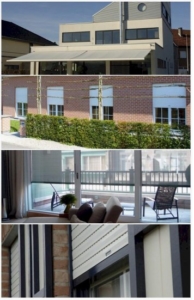 Smart Controls
An Integrated Home System (IHS) enables smart control of the shutters and sunscreens. In the summertime, you ensure that the shutters and sunscreens are closed in case of excess sunlight and solar heat. This happens automatically when you are not at home. If you are at home, only the sunscreens are lowered. You can also choose to close down the shutters in certain rooms, when there is too much sun and the temperature increase is too high.
In the wintertime, things are managed differently. Shutters and sunscreens are still operated automatically, but during the day you also take into account the temperature inside the house. When the inside temperature is lower than the required temperature, the sunscreens will not be rolled down if there is sunlight. This enables the sun to help heat the interior of the house. This is yet another way to save on heating bills.
If desired, automation blocks can be programmed to take into account your presence or absence, as well as the hours and days of the weeks. In this way, the automation can be adjusted to ensure that the appropriate scenario is executed during weekdays and at weekends. Regardless of the automation, the user remains in control. They can overrule the execution of an automated scenario at any time.