This article is no longer actively maintained. While it remains accessible for reference, exercise caution as the information within may be outdated. Use it judiciously and consider verifying its content in light of the latest developments.
-----
Let's be honest: emergency lighting probably won't be your first priority when designing your home's electrical installation. Still, emergency lighting—generally found in public buildings—offers a number of benefits for your home as well. If the lights go out, you won't find yourself sitting in the dark.
Emergency Lighting in Buildings
Emergency lighting is normally present in buildings accessed by the public and individuals on a regular or temporary basis. Corridors, stairwells, access doors, offices, etc. are equipped with emergency lighting fixtures. These are designed to provide people in the building with a minimum level of light in the event of a power outage. This prevents people from falling down a stairwell or walking into objects in the dark.
Emergency lighting is also used in larger buildings to identify exits, stairwells, etc. so that both regular and incidental users know where the exits are located. In most countries, the installation of emergency lighting is required in large office buildings or in the common areas of residential buildings. This makes the building safer for both users and visitors.
Emergency Lighting in the Home
As far as we know, the installation of emergency lighting in a house or flat is not required. There is little benefit in identifying the exits (i.e. the front door) in a home since the occupants already know where to find the exits in their home, providing there is a minimum amount of light available when the electricity goes out. Yet having this minimum amount of light is especially important if you are going up or down the stairs, in the kitchen cooking, in the bathroom taking a shower or busy doing other things that could pose a danger should the lights go out. In the case of the elderly, who are no longer as steady on their feet as they once were, emergency lighting can truly make the difference between experiencing an inconvenient yet otherwise trouble-free power outage and running into something or falling down and fracturing a leg, wrist or hip.
Where Should the Emergency Lighting be Installed?
Emergency lighting should be installed in corridors and stairwells, of course, but also in the bathroom, kitchen, cellar, attic and garage. Emergency lighting should also be installed in the immediate vicinity of the electrical distribution panel. During a power outage, the first place you're likely to go is the distribution panel in order to see whether a circuit breaker or RCBO has been activated. A bit of light will make fixing such a problem easier, unless of course your entire street has lost power.
Types of Emergency Lighting
The simplest form of emergency lighting is a light that only illuminates once the power supplying the device fails. This is known as the non-maintained mode. Other emergency lighting fixtures are equipped for maintained mode: the fixture is always illuminated, even when there is no power outage. Many fixtures let you choose whether to operate them in non-maintained or maintained mode.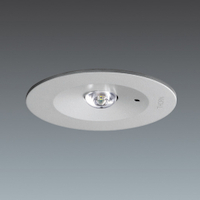 Typical emergency light for domestic properties
Maintained mode is particularly useful in the home—not for leaving a light on all the time, but for being able to switch it on when needed. Modern emergency lighting fixtures are usually fitted with energy-saving LEDs. By setting these to maintained mode, we can also use the emergency fixture as orientation lighting in the evening or at night. This can be done by means of a simple switch, a timer or even an output on the Integrated Home System (IHS).
In large buildings, emergency lighting often takes the form of rather large, un-aesthetic boxes hanging from the ceiling or the wall. This style of fixture really clashes with the look and appearance of a home. However there are also smaller, recessed round or rectangular emergency lights for the home that don't attract attention.
The built-in rechargeable battery normally has a run time of three hours, which gives you enough time to get the candles and candleholders out of the closet and make things cosy.