When your parents or grandparents get into a situation where they need daily help in order continue living at home, it may become necessary for you to become their carer. This usually means a visit one or more times a day to help them with personal hygiene, getting dressed, meals, cleaning and simply visiting, etc. Such a responsibility is a major and time-consuming task that will rest directly on your shoulders.
Taking them into your home would save a lot of time and effort, but that is usually impossible due to a lack of space, reduced privacy or obstacles such as multiple floors and stairs. A solution could be placing a care container in your garden.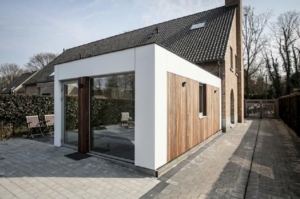 An example of an independent living unit
Multiple Reasons for a Temporary Extension
Apart from helping an older family member, certain disease processes and disabilities as a result of an accident are also common reasons for placing a care container.
In the case of conditions such as ALS (Amyotrophic lateral sclerosis) or MS (Multiple sclerosis), the person afflicted is confronted with progressive degeneration. In an initial as well as advanced stage, home care is possible provided the necessary facilities are present. However, bedrooms and bathroom are usually situated on another level. Likewise there is seldom wheelchair access to the toilet on the ground floor.
A Temporary Extension
One option is to build an extension to the home at ground level in the traditional manner. However, doing this requires an often complex procedure involving an architect, a building permit, the building work itself, etc. This invariably takes a great deal of time, and the costs can be very high as well.
When such a need arises, using a care container as a temporary extension can be a readily available solution. Depending on the needs, the container can be equipped with all of the necessary facilities. For instance, this could be a bedroom with a connecting bathroom, in which a wheelchair user has the facilities to shower and use an adapted toilet. In other cases, it could be a small bedroom for grandmother, coupled with a lounge so that she has her own space while still enjoying the proximity of her immediate family.
Separate or as an Extension
The care container can be placed in the garden as a separate unit. This provides the greatest degree of privacy for all parties. If a greater proximity is desirable or necessary, the container can also be connected to the rear facade of the home.
In any case, certain utilities will have to be provided, such as water supply and drainage, electrical connections and possibly connections for television and internet. Since this is usually a temporary solution, simply supplying electric heating and sanitary hot water can ensure a fast and problem-free connection.
Placement and Removal
Placement and removal are both done using a crane. The crane lifts the container over the home and places it at the chosen location. Certain utilities must be provided for beforehand, but the placement itself takes only one day. The same applies to removing the container when it is no longer required.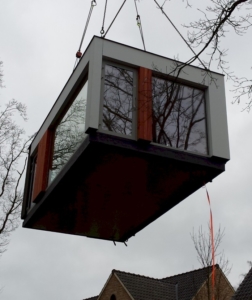 And the Public Authorities?
Thankfully, public authorities are becoming increasingly aware of the fact that an ageing population requires flexible housing arrangements. In many cases, it is essential that a rapid solution can be put in place to avoid the person requiring assistance from having to make use of a rest home or a nursing home.
Placing a temporary container—either buying or renting one—is a lot less expensive than staying in a rest home. Thanks to the close proximity of the carer, the consequences of loneliness such as the costs of anti-depressants can also be reduced. A properly equipped care container can therefore mean a win-win situation for the person needing assistance, the carer and the public authorities.