This article is no longer actively maintained. While it remains accessible for reference, exercise caution as the information within may be outdated. Use it judiciously and consider verifying its content in light of the latest developments.
-----
The number of old people (65+) in society is increasing all over the world. On the one hand, this is the result of improved healthcare and a better quality of life, enabling people to live longer. On the other hand, there is a demographic aspect at work as well: the post-WWII baby boom.
Certain electrical functions inside the home can help our ageing population live on their own for a longer period of time. Some examples and a reference to a more extensive article are given below.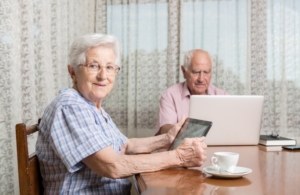 Shutters, Sunscreens, and Curtains
Most people lose strength as the years go by, making it difficult for them to manually open and close shutters and/or sunscreens. You probably do not want to disturb the neighbour twice a day to open the shutters in the morning and close them in the evening. Electrically controlled shutters with local and group controls (opening or closing all of the shutters without having to go through the entire house) offer a solution. Automated sunscreens that keep the interior temperature comfortable help create a more pleasant environment.
People who have difficulty walking and have to use a walking frame will certainly benefit from electrically controlled shutters, sunscreens, and curtains. The latter will greatly reduce the risk of falling. For certain people this can mean the difference between remaining at home longer or having to relocate to a service flat or residential care centre. Even if you do not presently need these tools, the investment could certainly increase your current living comfort.
Video Door Communication
A video door communication system connected to outdoor and indoor devices such as a TV screen and/or a smartphone, enable you to know who is at the door without opening it. You can feel safe, especially when the doorbell rings after dark. Additional benefit: you can let family, a neighbour, the doctor, nurse or physical therapist enter without having to walk to the front door yourself. This is especially important when you are ill and need carers from outside the house. There is also the security of not having to hand out your house keys to someone.
Quality Internet Connection
More and more elderly depend upon the internet. This has led to an increasing number of care technologies finding their way into our homes. Scheduling an appointment with the doctor or nurse, choosing a menu from the dinner-at-home service, or chatting and video calling the grandchildren is becoming the norm. It is also advisable to have a fixed multiple LAN connection behind the TV; not just for digital television, but also to connect with the care centre, when necessary.
Integrated Home System (IHS) Functions
You can define many more useful functions if your home is equipped with an IHS. Such systems can be equipped with an all-on or all-off button, and even sleep-tight, day-night, or panic buttons. You can also include a button to turn on the lights to safely go the toilet at night, or a cooking button that switches off the stove when you are outside the kitchen for too long while cooking.
A more extensive article on IHS functionalities for the elderly is available here.