1. Copper atoms in a metal have no charge, but copper ions in solution as copper chloride have a positive charge. What has the copper atom lost to change it into a positive ion?
The copper atom has lost an electron.
2. In the electroplating process copper ions in solution are deposited on the tracks, which are connected to an electrical negative terminal to make them the cathode. Complete this electron half equation for what happens at the cathode:
Cu2+(aq) + 2e– → ?
The electron half equation is:
Cu2+(aq) + 2e– → Cu
This equation shows the change at the cathode from a positively charged soluble copper ion to an insoluble metal atom with no charge.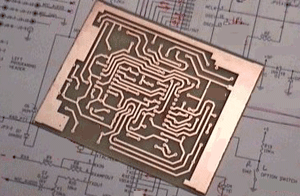 Ferric chloride was used to etch away the copper on this board, leaving only the circuit tracks remaining. (Courtesy of QSL.)