1. What is a cofactor?
A cofactor is a molecule or ion that makes an enzyme effective. Some cofactors are metal ions. Metal ions with high atomic masses exert an influence on biological reactions without being used in the reaction. This is a biological type of catalysis.
2. Calculate the fraction by mass of copper in a human body (e.g. body mass = 75 kg, mass of copper = 150 mg).
With 2 mg per kilogram, the fraction is 2 x 10-3 / 1 x 103, which is two millionths. That is a tiny amount per kilogram in terms of mass, but it still equates to a large number of copper ions.
3. How many atoms of copper would there be in a single human (given the atomic mass of copper ≈ 63 and Avogadro's number ≈ 6 x 1023)?
First, calculate the number of moles of copper:
Number of moles = mass of copper (expressed in grams)/atomic mass = 0.15/63 = 2.38 x 10 -3
Multiply number of moles by Avogadro's number to give number of atoms:
2.38 x 10 -3 x 6 x 1023 = 1.428 x 1021
4. How does copper get into the human food chain?
Copper exists in trace quantities in most soils. From here it is taken up by plants that require trace amounts of it to grow. Plants can be eaten by humans or eaten by livestock which is then eaten by humans.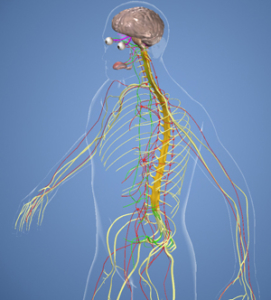 Copper is crucial for the development of the brain and nervous system. (Courtesy of Gida.de.)